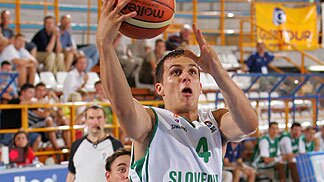 Israel blew a 20-point lead over the final 16 minutes and allowed co-hosts Slovenia to claim fifth place at the U20 European Championship Men with a 90-81 victory.

Matej Krusic scored 16 points and grabbed 11 rebounds to lead six Slovenians in double figures with Emir Preldzic also scoring 16 points and Rok Perko chipping in 14 off the bench.


Israel will play for fifth place at the U20 European Championship Men after Elishay Kadir scored 22 points in a 74-64 victory over Turkey.

Daniel Gur Arie added a double-double of 10 points and 10 rebounds and Yogev Ohayon poured in 17 points for the Israelis, who received only nine points from Omri Casspi in 17 minutes.



Omri Casspi rebounded from two disappointing performances to lead Israel to an 85-69 victory over Bulgaria at the U20 European Championship Men, bouncing back after their disappointing loss to Italy a day earlier.

Israel's defeat against the co-hosts knocked them out of the running for the semi-finals, but Yakov Gino's team proved too much down the stretch, using a 10-0 run to outscore the Bulgarians 31-15 in the fourth quarter.



11.07.2007

Italy Edge Israel, Secure Semis


Israel

ADMINISTRATION Office

Address: 36 Sderot Yehudit, 61573 Tel Aviv, ISR
Tel.: +972 (3) 5622292
Fax: +972 (3) 5622291
Email:
Web:


06.07.2007
vs
MKD
95-65
07.07.2007
vs
CRO
77-64
08.07.2007
vs
ESP
73-77
10.07.2007
vs
GEO
81-74
11.07.2007
vs
ITA
62-66
12.07.2007
vs
BUL
85-69
14.07.2007
vs
TUR
74-64
15.07.2007
vs
SLO
81-90